Danke!
Eine Woche voller Diskussionen, Workshops und Feste ist vorbei. Danke allen, die solidarisch, selbstorganisiert und unentgeltlich dieses Projekt möglich machten.
Wenn ihr etwas verpasst habt, könnt ihr die meisten Diskussionen HIER nachhören. Wir werden nach und nach hochladen. Also bitte regelmässig checken. Wir sind etwas langsam 🙂
Thank you!
One week of discussions, workshops and parties is over. Thank you all, who made this project possible with your voluntary and self-organized commitment.
If you have missed a workshop or you want to listen to a talk again: We will now upload most of the talks HERE – please check from time to time – we are slow 🙂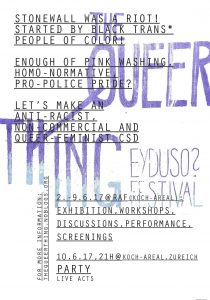 Wer wir sind? Wer steckt dahinter?
Wir sind eine lose, queere Gruppe aus verschiedenen politischen und gesellschaftlichen Strömungen, die sich seit letztem Herbst regelmässig trifft. Du findest unsere gemeinsame Position weiter unten (auf Englisch).
Who we are? Who's behind this festival?
We are a queer group from different political and social movements. We have been meeting on a regular basis since last autumn. Check out our common position.
Our common position:
To all the queers who feel misrepresented by the pro-police, profit-oriented and homonormative pride. We think the time has come to organize an anti-racist and anticapitalist alternative. We would like to invite other people interested in working together towards the goal of a self-organized, non-commercial, and non-excluding festival in June 2017. Beyond that we feel the urge to create a collective space for meeting, action, dancing and politics on a regular basis. JOIN IN.
---
>>>> Interview im VORWÄRTS <<<<
>>>> Interview mit RadioLora <<<<
---
Newsletter?
(for future events)
Mail an, mail to eylauftso-subscribe@lists.riseup.net
---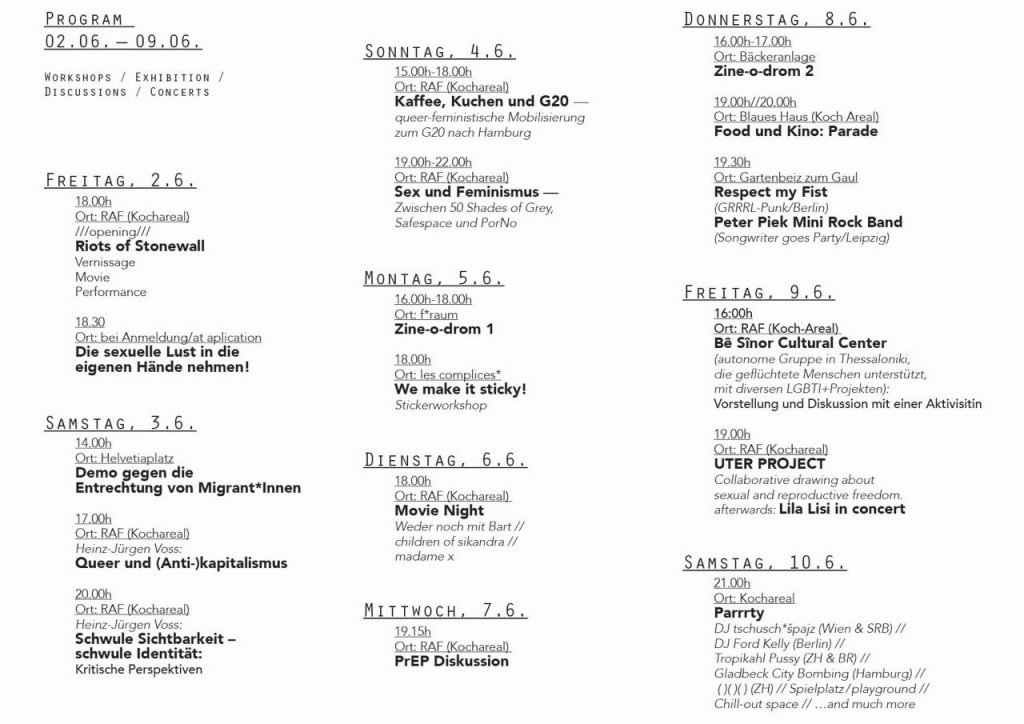 ---
---